2000
When I started using Live Journal some seven years ago, I was user #3 in India. That made me an early adopter. I loved Live Journal customisation features, which I used to the max, and the community features were spectacular too. It served me well all these years.
But years roll by, times change, people grow up, or maybe even sideways. I'm too sexy for this thing now. LJ can no longer provide me with the customisation I want. And the community... this is a rave party, not a conference of professionals. Which is not bad for all, just that it's not good for me.
I won't be updating here any longer. Catch me at
thecontrarian.in/blog
2007
Andrei Tarkovsky
in my photographic style. Not knowing who Tarkovsky was (my ignorance), I wasn't sure what to make of it. I quickly put together a pair of images, for my own amusement more than anything else, made a mental note to myself, and left it at that.

As it happens, an exhibition in Paris is trying out a similar exercise.
L'Image D'Apres
at the Cinémathèque Française gets ten Magnum photographers to reveal how a director, film, or scene had influenced their work in some way. In typical art critic-speak, the curators write, "cinema creates the illusion of the real so that the spectator cannot doubt its verisimilitude; photography draws on the imagination to re-establish the truth of lived experience." Of course.
What does it mean to be influenced by anyone or anything at all? Jim Casper notes in
Lens Culture
, "each pairing is unique, so there is no formula, no repetition. It re-affirms how wide-reaching influence can be and how many different forms it can take." Check out the
pdf dossier
for an introduction to the photographers and their influences.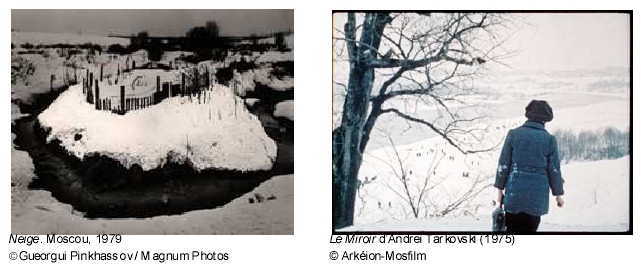 One of the photographers featured at
L'Image D'Apres
is Gueorgui Pinkhassov, whose greatest influence was from Tarkovskavian classics like
Mirror
and
Stalker
. The great director once told him, "If you see that someone works in your style, change your style."
Equally inspired by Italian screenwriter Tonino Guerra, Pinkhassov went on to capture slices of daily life in Moscow, an ordinarily impossible task at that time. He would shoot discretely from the hip, using the camera "like a revolver [that], just as in Russian roulette, hits its mark with sudden and unexpected precision." The process reminded him more of fishing than shooting, said Pinkhassov, and felt at times that the photographic angels above begged him not to look through the lens and allow them to do their work in peace. [Source:
Magnum Stories
]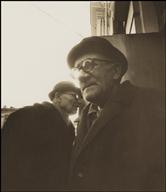 "
My shutter finger lowered at my waist reacted to a sudden, strange appearance on the street; a gentleman in a bowler hat. He was leaving a store just as I was entering it. And a second later I saw him inside the store again. I couldn't understand it, thinking he had just left. But the photograph in the end solved the puzzle. I had caught two men, standing nose to nose — exact doubles of each other. Had the shutter been pressed an instant earlier or later, the photograph could never have had such an avant-garde composition.
"
Photo: Men in the street, Moscow, 1979. © Gueorgui Pinkhassov/Magnum Photos


Minutes before I left for a holiday in Sri Lanka last December, I read Pinkhassov's autobiography. Completely bought into his approach to candid street photography, I tried to do a Pinkhassov while in the emerald isle, letting active composition take the back seat while reacting spontaneously to light, space, mood, and interactions. This, as opposed to staying rooted at one spot and waiting for something to happen.
While I'm not saying I advocate this 'technique', I think it worked wonders for me on that particular occasion. I was able to enjoy my holiday and let the angels do all the work!

See the rest of my
Sri Lanka series
.
Just a couple of weeks ago, somebody commented that they saw traces of
kinky_gal:
Why do people always need SAP consultants ???
msram:
why not? they're people too... we should show them some love because they've been rejected by the rest of society
kinky_gal:
yeah yeah yeah... how many SAP consultants can one possibly need ?
msram:
hire as many as possible...
they
need you
kinky_gal:
actually one of my closet pals is in SAP .. so I guess I should be a bit kind
msram:
yes, and he needs to come out of the closet. there isn't anything wrong in being a SAP consultant. It's NOT his fault!
kinky_gal:
poor chap .. but he is really good at what he does though... but he is more a people's person... the kind that likes to be nice to people... and actually interact with them
msram:
then he should learn PeopleSoft
th
of a second in our busy lives, we were catapulted into Page 3 fame. You can see us there on P3 of today's
Times of India
, lending ourselves to the very pertinent issue of depletion of Bangalore's boulevards due to Metro Rail construction work.
With this new-found status, it is inevitable that several other wide-eyed bimbos covering the P3 beat will seek us out for soundbites on this topic. Let me pre-empt them by stating my stand right away:
First of all, stop calling M.G. Road a boulevard. As the photo clearly shows, it is disqualified from boulevard status on two counts: there are no trees on the left and there are no trees on the right. The only trees 'on' M.G. Road are in Cariappa Park and on Parade Grounds.
Secondly, in my considered opinion, rather than dig out the shrubs and get the environmentalists all riled up, why not use this opportunity instead to raze down every socialist-era abomination on the opposite side, from Public Urinal Building all the way to LIC building (not including LIC building) and give the city a much-needed makeover? That'll keep the tree huggers down, architects busy, and give photographers like me something to look forward to 10 years from now.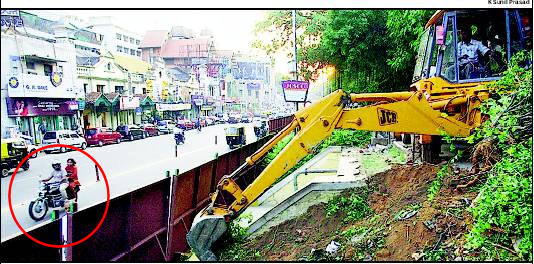 Caption:
An excavator clears the greens on the tank bund area on MG Road on Wednesday. The Metro Rail team has set a deadline of 15 days to remove the bund, and hopes to deploy earth-moving equipment to dig out hard rocks. However, in the next few days, the entire stretch from Anil Kumble Circle to Brigade Road junction will be barricaded, said BMRC authorities. Once the project is completed, the BMRC will rebuild the bund and greenery
Update:
27/April
I've been liberally quoted in a
Deccan Herald
article on
architecture photography
, which means I know a thing or two about it :)
So Vidya and I were cruising along M.G. Road, when in exchange for 1/60
Apple Aperture
. A motley crowd of old and young gathered on a Sunday morning and waited in a dimly-lit room for a speaker who arrived 45 minutes late. And what followed was the antithesis of all that Apple stands for — creativity, coolness, and common sense. What could have been a very interesting introduction to the concepts of workflow of digital photography, instead became an uninspiring attempt at tomgeekery and treated Aperture like another Photoshop.
Halfway into the session, somebody couldn't resist enquiring whether Aperture supported RAW. The speaker apologised for not mentioning that earlier! He made false comparisons between Aperture and "other software" and was not up-to-date with the closest alternative,
Adobe Photoshop Lightroom
. Things came to a head when he later used the dust removal tool (meant to remove spocks due to dust on the camera's sensor) to fix the sunburnt cheeks of a Tibetan girl. I should have walked out at this point, but thought that if they served lunch after this, all could be forgiven. Unfortunately, that wasn't to happen.
To be fair to Apple, this was not an authorised demo. It was sponsored by a Bangalore-based reseller called
Ample
.
While I'm at it, let me dedicate this post to the other sponsors of the Bangalore Photography Festival. The most active was the cheerful team from
Pixetra
, who were always ready with a helping hand even if it meant going out of their way. Only a month ago, I bought a lens from their new store on Cunningham Road, and so I can vouch for their customer-friendliness, in-store and off-store. They've got some serious ideas to repaint the photography services landscape, besides giving the grumpy grey-beards of Brigade Road a run for their money.
We photographers of Bangalore could have been lazing the Sunday away, instead it proved to be a beautiful week of discovering each other. Thanks to the team at
Crossover India
for taking this show from idea to exhibition hall in about 15 days. I wonder what drug they've been on.
Another sponsor showed up by proxy in the evening. Glen Drummond, that heavenly 8-year single malt IMFL whiskey, flowed into clear glasses. I established a quick rapport with the bartender who had respect for those who respected a fine whiskey on the rocks—it lets him try out his neat little bar trick. What's a single malt versus a double malt? Who's the best photographer in Bangalore? These trivial details seemed to matter less and less as evening faded away into night.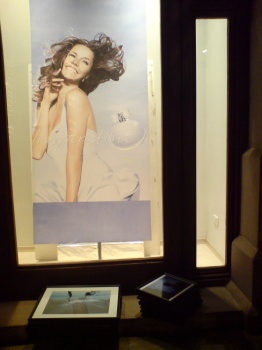 So the day started off with a sales pitch for
raison d'être
of a photo festival is to showcase some intelligent, thought-provoking, personal work. Non, non! This was certainly no
Rencontres D'Arles
or
IPF Perpignan
.
Art critic
Giridhar Khasnis points out
that greater attention to detail and curatorial intervention would have enhanced the effort itself. But could he have further put his wisdom to work and spotted new talent rather than making an inventory of the banal and passing safe comments on the well-known?
What Khasnis mentions in passing as "some warm images" are from Ramya Reddy's ongoing series. I love the masterly execution of her dreamy work, such that the photographer's direction is subtle to the point of being invisible. I didn't get to talk to Ramya much about her series, but I really look forward to seeing more of it.
Vivek Mathew
is another photographer to watch out for. Still young and extremely voluble, but demonstrates talent not only by closing in on abstract details, but also by solidly networking with the right people. I mention this because it's more than camera skills that maketh a photographer. Vivek brought to the exhibition images from his 2005 solo show at the Renaissance Gallery.
Shibu Arakkal
is another artist whose images won't make you go, "Yeah, I've seen that before." Both Shibu and I graduated from the same college in the same year, but he's been in the game for about 13 years longer than I. I regret not having known him back then.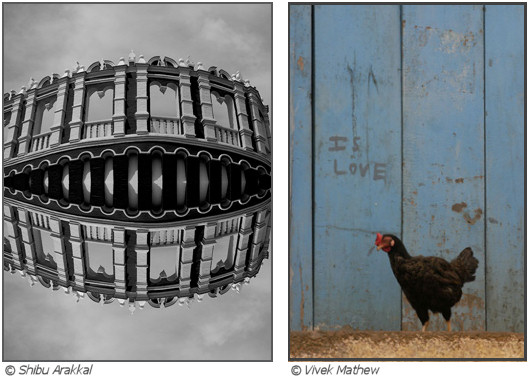 I finally caught up with Harris Backer this weekend. I like his strong graphic sense (which shows up in his photography as much as in his handwriting) coupled by the stark mood he creates with high contrast light and shadow regions, evidenced in images from the ruins of Mesaieed in Qatar. Like Harris, I too am a fan of colour photography without too much colour in it. See the
rest of his work
.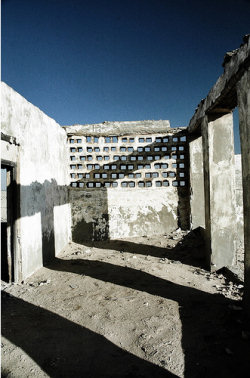 © Harris Backer
Talking to Harris and his charming architect wife Sri Devi, I got a new perspective to my own work, which always helps as I'm still trying to understand where I'm going in my career. My composition, they felt, is reminiscent of stills from an
Andrei Tarkovsky
movie. I must watch some of his films to accept the complement more sincerely, but let's see now...

Lastly, I must thank all those wonderful people who showed their support by taking the time to write to me, meet me, and of course, buy prints. Thanks especially to all the geeks who could readily identify with
This Bangalore
. It's dedicated to you guys!
So it's not like I have anything against pretty pictures, but I like to think that the
Pallon Daruwalla
took up maximum mindshare at the Bangalore Photography Festival, perhaps rightfully so as he's the most senior photographer among the 18 professionals exhibiting. Daruwalla's work is clinically perfect, and that not only sets the tone for this event, but is also an indication of what Bangalore comes to expect of photography. For someone like me, who's trying to make a career out of imperfection, it can be quite unnerving.
My pet peeve against celebrity photographers in India is that they don't do enough to nurture young talent. (This merits a long post unto itself.) The fact that a couple of Daruwalla's former assistants were showing their works on adjacent panels was a positive sign.
Representation from photo schools was quite generous, as was work that screamed "Straight out of school! Hey look, I can make a pretty picture!" Some of them are also liberal with their malformed opinions. One kid said to me that my composition could do with some improvement. Sorry, I bunked the
rule of thirds
class. Another guy, with the rich experience of one solo exhibition behind him, totally violated my personal space and gave me an earful on why and how I should reorganise my display.
The amateurs were there in full strength to disappoint and be disappointed. Imagine this... 18 professionals displaying on some 50 panels; 70 amateurs got to share 10 panels. There's a clear class structure here. Since the professional category wasn't advertised, it came as a total shock to all the amateurs to see their work overwhelmed by the rest of the hall. Hey, that's life!
From my vantage point at the Barista two floors above, I watched as amateurs and their mummy-daddies photographed themsleves in front of their prints. Some even photographed the photos alone to prove that it existed on some whiteboard in some five-star hotel somewhere. I don't think many amateurs made an effort (I could be wrong) to interact with professionals and glean over the finer points of photography.
Even after all this, there was still room left to push for a standard lower and a standard higher. I checked the comments in the guestbook at the end of the day, only to see thoughtful remarks such as "cool pics" and "nice shots!" Some of the really deep ones were, "Every photo gives us an opportunity to think," and my personal favourite, "The amateurs were much better than the professionals."
At the end of the day, there was one artist who ruled. A man dressed very simply like an IT worker surprised everybody when he quietly took his seat at the grand piano and played it like a god. He was Avinash Mario Grubb. The security guards couldn't care less about the exhibition, but they did stand and listen to Avinash as they waited to switch off the lights and close the show.
So if you asked me to summarise the photo festival in three words, I'd say "amateurs, schools, and Daruwalla". Let's take that in reverse order.
Fireflies Ashram
for the
Festival of Sacred Music
or to hob-nob with a hodge-podge of the city's photographer community at the
Bangalore Photography Festival
.
Had I the strength, I would have chosen the former — 6 pm to am, back to back sacred music by a placid lake for Rs. 200. What a deal! Due to professional commitments, however, I had to opt for hob-nobbing, more so because my own works are on display. And this is after cancelling my trip to Goa where I could have been chilling out at that
ultimate beach party
.
Anyway, I'm showing three series to test Bangalore's appetite. It wasn't easy arriving at the decision. Thanks to Vidya, this time playing the role of agent, photo editor, and exhibition consultant!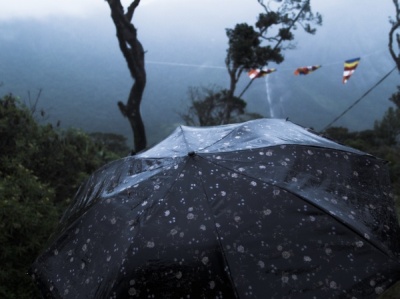 Layers of Lanka
is a set of eight images that offers the viewer a journey into Sri Lanka. At 12" x 18", each photograph comes to life as detail upon detail layered in the foreground, middleground, and background reveal some aspect of society and culture on the emerald isle.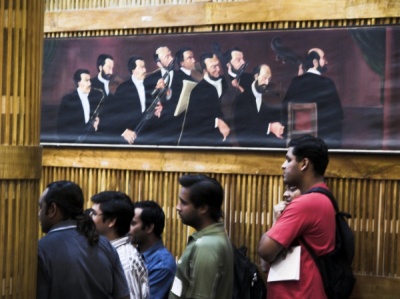 The other two series form a collage called
This Bangalore
, from my ongoing personal project that documents nouveau Bangalore culture.
The exhibition is on at the
Leela Galleria
on Airport Road until Sunday the 22nd. I plan to be there at least for a couple of hours every day. If you'd like to meet me, just call or send me an sms.
So this weekend, every cultured Bangalorean had to take a stand on whether she loved music more or photography. Specifically, the decision to be made was whether to pull an all-nighter at the
new camera phone
to the fullest use, including the Internet features. I had enabled GPRS just for this trip :)
I know these aren't healthy signs at all, but I have to confront the shocking truth: Ever since I choose Life over Technology some four years ago, the world has moved forward in Mercury years and I've lost my edge.
My photographer side, however, is just discovering that 3 megapixels can be cutting edge. As if to spoil the fun, I got a call from the photo editor of a travel mag. He wanted to know, among other things, how many megapixels was my camera.
"It really shouldn't matter since your magazine prints on twice-recycled jute rags anyway and readers wouldn't notice if you gave them 150 dpi images," is what I wanted to say, whereas I chose instead to quote the highest number I could without breaching the boundaries of truthfulness. Sadly, magazines in India still use filters like these.
Anyway, I liked
what I got
, and no regrets about it. Here it is, presented on a "
Pickle
" widget, which promises to be a cross between
flickr
and
You Tube
— another new thing that I got to try out thanks to this holiday!
So I spent the weekend holidaying in Pondicherry. Since holidays are meant for trying out new things, I put my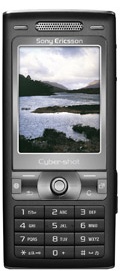 So I've been the proud owner of a
Sony Ericsson K790i
since recently. I went to buy a phone with good music capability, especially FM, and Sony Ericsson's reputation here is well known. When I saw that a 3 megapixel camera was only a few thousands more (at Rs. 18,000), I jumped at it.
A little fact that didn't influence my buying decision but is important to me nevertheless is that
Martin Parr
went gallivanting around the world for three months photographing with a K750 (the 2mp version of what I have) for what was a
brilliantly conceived campaign
by Sony Ericsson.
When I first saw the results, I was surprised that he had managed to do Martin Parr-kind of work, and it was a mind-blowing revelation that personal style is intrinsic rather than device-specific. Sounds obvious? It isn't if you consider that it can be difficult to get used to a new camera model, let alone a whole new genre of light capturing devices. I made a mental note then and there to give camera phone photography the seriousness it deserves.
Taking my new toy for a spin on Brigade Road, I'm already impressed by how spontaneous and discreet it allows me be in situations that are otherwise impossible (say, traffic jams) or better avoided (public spaces teeming with privacy freaks).